News
Latest updates from the campaign:
Citizens for Chardon Schools hosted a Community Forum on Ohio's School Funding with our State Legislators on January 18, 2017 at 7:00 PM in the Chardon Schools Board of Education Meeting Room, 428 North St. Chardon.
State funding for Chardon Schools has decreased over the last several years, due in large part to the phase out of the Tangible Personal Property Tax (TPP) reimbursement. The Chardon Schools is losing approx. $1 million dollars per year due to this phase-out, while the District's 3.9 mill operating levy was defeated by voters in November 2017.
Here is a News Herald
article
summarizing the information that was learned during that meeting.
Our biggest take away is that additional state funding is not coming to help support our schools. We need local support and dollars to keep our high preforming schools as a community asset. Our May 8th levy is critical so that we can continue to provide a high quality education for our kids. Strong schools = strong community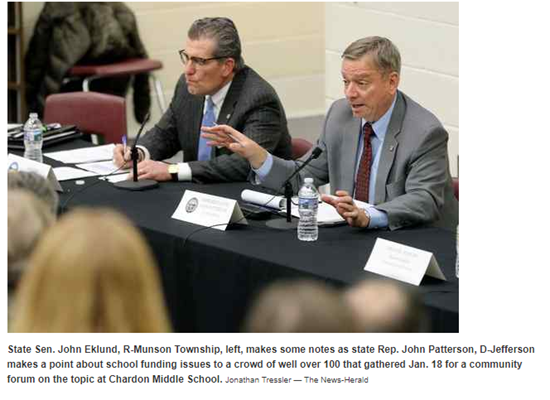 Thursday, April 19, 2018 12:00 AM
You have questions and we can help answer them. This levy is critical to the success of our schools. Please log on and get your questions answered so you are confident when casting your YES vote for Issue 3, May 8th
---
Friday, February 16, 2018 2:55 PM
Thank you to our donors:
Platinum Sponsors ($1000 and more):
Shiffler Equipment- John and Karen Shiffler
Chardon Smile Center- Chris Phillips
NDS Orhtodontics- Steve and Meredith Gajda
Dan and Kathy McMaster
Sandy and Mike Royle
Bill and Lyn Skidmore
Gold Sponsors ($100-$999):
Paul Davis Resoration- Jeff and Cindie Suszynski
Royle Insurance Agency- Ben and Annie Royle
Hazen Contracting- Jeff and Karen Hazen
Eric Wachob
Mayfield Window Cleaning- Kevin Ash
Anonymous
Dr. Michael Hanlon
Melanie and Chris Scanlon
Koren Griffis
Stacey Camino
Karen Blankenship
Gabrielle and Alan Boose
Dr. Ed Klein
Jennifer Weinbrecht
Tiffany and Alan Bosiacki
Junction Auto- Ed and Connie Babcock
John Butala
Tamera Segulin
Guy Wilson
Rebecca Bennett
Jeff Fisher
Chassidy Rellinger
Amy Cohn
Beth Stickley
Denise and Paul Hagan
Diane Robbinson
Park Elementary PTO
Rhonda and Dwight Goss
Sheldon Firem
Residence Artists- Keith Landies
Friends of Chardon Schools (up to $100):
Bill and Debbie Hofstetter
Trevor and Gail Wilson
Greg and Stellie Spear
Kelly Moran
Debbie Pirnat
Tom and Melissa Norton
Shannon Monsman
Erin Niksick
Jodi Clute
Lynn Monaco
Loraine Baker
Kristin Firth
Haley Jonovich
Keith Brewster
Jennifer and Troy Maheu
Amelia and Matthew Ridgeway
Angela Moore
Jacqueline and Scott Brown
Cynthia and Bill Nells
Donna and Nicholas Pincone
Sarah Cudo
Jennifer McClintock
Robyn Lannon
Jospeh Schultz
Casey Ptasznik
Natalie Whiting
Rhonda Garrett
Madelon Horvath
Elizabeth Doolittle
Stephanie Clements
Doug Murray
Natalie Gertz-Young
Ashley Brudno
Louise Henry
Adam Tomco
Timothy Velotta
---
Thursday, July 20, 2017 9:54 AM
Citizens for Chardon Schools hosted a Community Forum on Ohio's School Funding with State Legislators on January 18, 2018.